Attendance
Attendance
Attendance Matters
It is an expectation at The Garibaldi School that students attend 100% of the time. We have the belief that every missed session is a missed opportunity for students. Each moment of the school day is carefully planned out, with all opportunities in place so your child can succeed.
Attendance is a key factor in academic success. There are 190 school days in a year and although 90% attendance may seem acceptable it means that a child is only attending 171 of these days. If this occurred every year, they would have missed 4 months of school by the time they leave in year 11. Therefore, we are striving for children to attend at least 96% of school days a year- the equivalent of 182 days a school year (allowing for 8 days of illness, medical or other absence when necessary).
How many days/ lessons will I miss?
| | | | |
| --- | --- | --- | --- |
| Attendance | A week? | A Year? | 5 years? |
| 100% | 0 days | 0 days | 0 days |
| 95% | 0.06 days/2 lessons | 13 days/ 76 lessons | 63 days/ 380 lessons |
| 90% | | 19 days/ 114 lessons | 95 days/ 570 lessons |
| 85% | 0.2 days/ 5 lessons | 30 days/ 190 lessons | |
| 80% | | | |
COVID-19 and Attendance
As you will all be aware the Coronavirus Pandemic is having a huge impact on your child's attendance at school. Although this is out of our control it is pivotal we place huge importance on the reintegration of children into school when possible.
Your child will have missed a huge number of lessons due to the Pandemic and this means attendance in the 2020-2021 school year will be paramount in your child's achievement, so they don't fall behind. We ask you stress the importance of this attendance to your children when they can attend school again and throughout the academic year.
Punctuality
Being punctual to school is just as important as being present for the school day. Children have mentor time at the beginning of the school day which can keep them up to date with school information, teach them personal development and offer a space for them to raise any concerns or have support with their mentors.
Here are some top tips to share with your child for being punctual to school:
Every minute counts... If your child is 10 minutes late to school every day, they lose 6 full days of learning time throughout the school year. This is 6 days of missed opportunities for your child and 6 days where they will be behind on their workload.
Holiday Request Form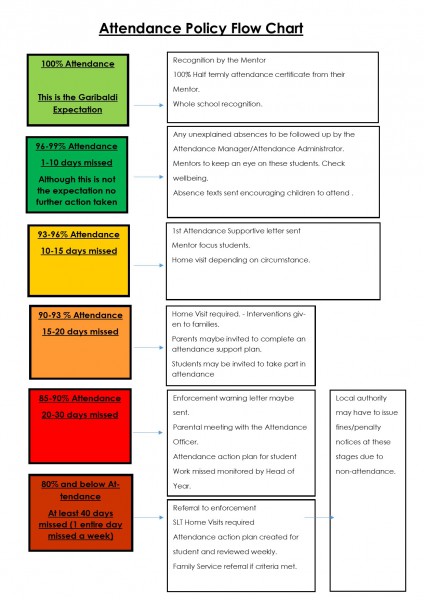 The Attendance Manager will be following the Attendance Policy above when communicating with families and it would be useful to familiarise yourself with the process we follow regarding attendance.
Good attendance = Good grades
Below is a graph which shows the link between % attendance and the number of GCSE results 9-4 (A* to C)
Illness- should my child be at home?
We know that illness is unavoidable- please use the below picture to assess how long your child should be absent from school.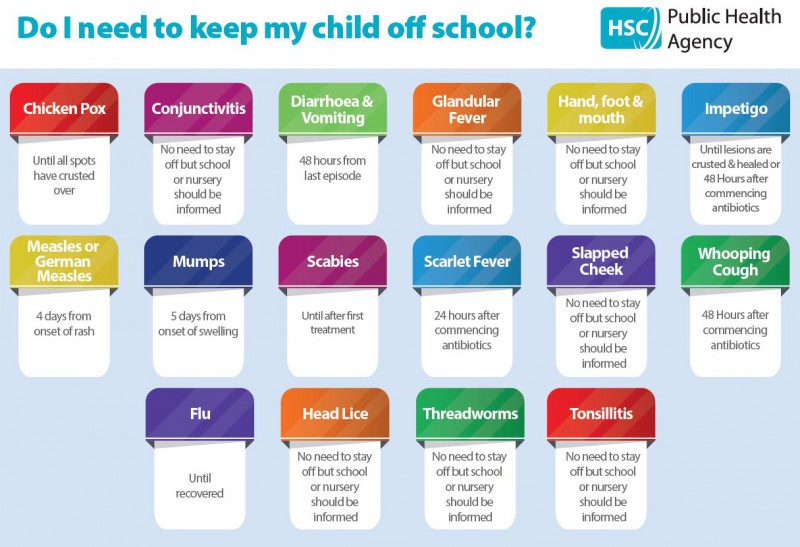 Below is a link to a NHS document which should help you as parents decide whether to send your child to school if you require any further information.
https://www.nhs.uk/live-well/healthy-body/is-my-child-too-ill-for-school/
Please note: In cases of diarrhoea or vomiting where it is a one-off occurrence, we are happy for a child to return to school the next day- at the parent's discretion.
Student Attendance Manager
The Student Attendance Manager, Mrs L Gilson will be in contact if your child's attendance becomes a concern. If you wish to discuss your child's attendance prior to this, please do not hesitate to get in touch.
Young Carers
Young Carer's are recognised as being vital in many families' lives and we are here to support young people if they have caring responsibilities at home. The Garibaldi School works in close contact with Nottinghamshire Carer's Association to ensure we are doing all we can to support these students.
If your child is missing school due to being a Young Carer or is late to school because of this please we do understand and can put in extra support for your child to help them with this. Please get in contact with Attendnace Manager who is the designated Young Carer lead to discuss this further or if you would like to talk more about Young Carer's.
If you would like further online information about Young Carer's and what classifies as a Young Carer here are some useful links:
Nottinghamshire County Council : https://www.nottinghamshire.gov.uk/care/adult-social-care/carers/support-for-young-carers
The following BBC video shows a day in the life of a Young Carer. You may want to watch this to see if this is something your child is currently doing. You may be entitled to some support:
https://www.youtube.com/watch?v=kdvd-R2b6YA
Here are two useful You-Tube clips which consolidate the importance of Attendance:
Below are some useful links which relate to attendance:
NCC- School Attendance: https://www.nottinghamcity.gov.uk/schoolattendance
Fixed Penalty Notice guidance for parents
Under existing legislation, parents/carers commit an offence if a child fails to attend regularly and the absences are classed as unauthorised (those for which the school cannot or has not given permission). Depending on circumstances such cases may result in prosecution under Section 444 of the Education Act 1996. A Penalty Notice is an alternative to prosecution, which does not require an appearance in Court whilst still securing an improvement in a pupil's attendance. Payment of a Penalty Notice enables parents to discharge potential liability for conviction.
August 2022
| M | T | W | T | F | WE |
| --- | --- | --- | --- | --- | --- |
| 1 | 2 | 3 | 4 | 5 | 6 |
| 8 | 9 | 10 | 11 | 12 | 13 |
| 15 | 16 | 17 | 18 | 19 | 20 |
| 22 | 23 | 24 | 25 | 26 | 27 |
| 29 | 30 | 31 | | | |