A-Level Geography
A-Level Geography
Half Term Overview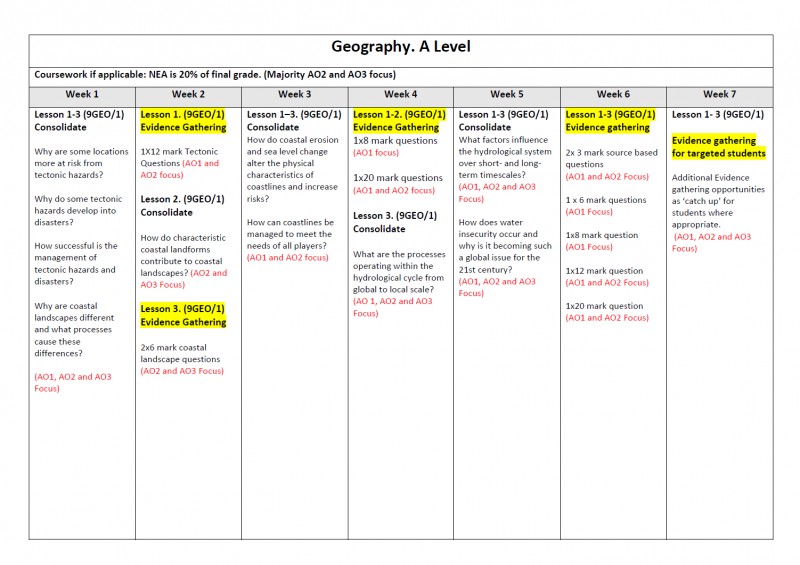 Revision Guidance
Students should focus on the key themes which have been identified in the overview. They have all been provided with an A Level revision guide so should use this as a starting point for revision. To develop depth of knowledge they should also use their class notes to supplement the revision guides and this is especially the case when considering the case studies they need to know and be able to apply.
It would also be helpful for students to consider their written style and exam structure as being able to evaluate and assess are vital in securing high marks. To support this there is a 20 mark 'Evaluation Structure' sheet available for students to familiarise themselves with and potential practice their written style.
Accrued Evidence
This is the assessment evidence that will be used alongside performance on the planned evidence gathering opportunities above to determine student grades.
Sample Assessment Materials 1 used for Tectonics and Globalisation 12 mark questions. Year 12, M1
Combined Paper 1 and Paper 2. Section A and B. 2019 papers used. Year 12, M2
Paper 3 Full 2018 paper used. Year 12 Summer Term.
Paper 1 Mock Exam. Combination of 2018, Sample Assessment Materials 1 and 2019, November 2020
Paper 2 Mock Exam. Full Paper from 2018, November 2020.