Virtual Open Evenings
Virtual Open Evenings
Sixth Form Virtual Open Evening
Do you have a question you'd like to ask at our Virtual Open Evening?
Please use the form below to submit your question and we'll aim to answer as many as possible.
Year 6 into Year 7
At The Garibaldi School, we aim to make the transition from Year 6 to Year 7 as smooth as possible and give every child and parent/carer confidence that the change will be a happy and successful one.
Usually at this time of year we would be inviting parent/carers to our Open Evening, to show you our facilities, meet the students and staff and experience the curriculum which is offered. Unfortunately we cannot facilitate this due to the COVID-19 restrictions being in force. We are hopeful we will be able to do this later in the year, but this will not be before the deadline has passed for Year 7 secondary school applications which is 31st October 2020.
We invite you to join us for our online open evening. This year we are holding a virtual event via Microsoft Teams in place of our usual open evening held in school, due to the current COVID-19 restrictions.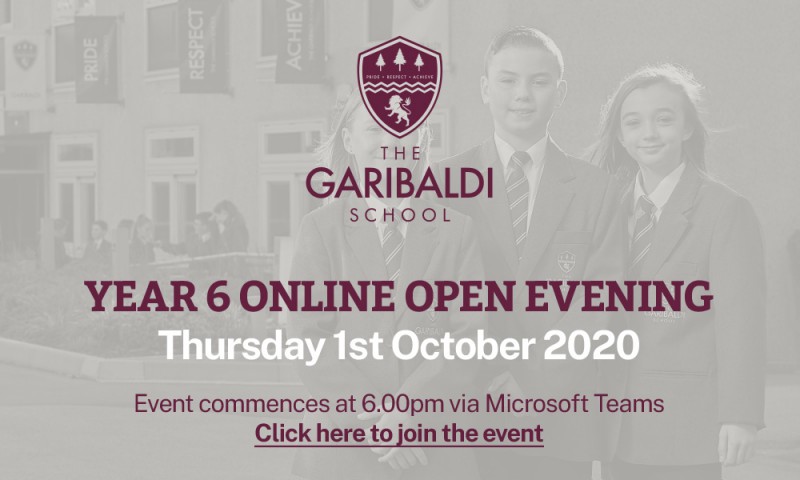 You can watch the event on any electronic device and you do not need a Microsoft account to do so, even though this software is being used to deliver the events.
Do you have a specific question you would like to ask prior to the event?
August 2022
| M | T | W | T | F | WE |
| --- | --- | --- | --- | --- | --- |
| 1 | 2 | 3 | 4 | 5 | 6 |
| 8 | 9 | 10 | 11 | 12 | 13 |
| 15 | 16 | 17 | 18 | 19 | 20 |
| 22 | 23 | 24 | 25 | 26 | 27 |
| 29 | 30 | 31 | | | |