Latest News
Latest News
Regional Winners and onto the Grand Finals!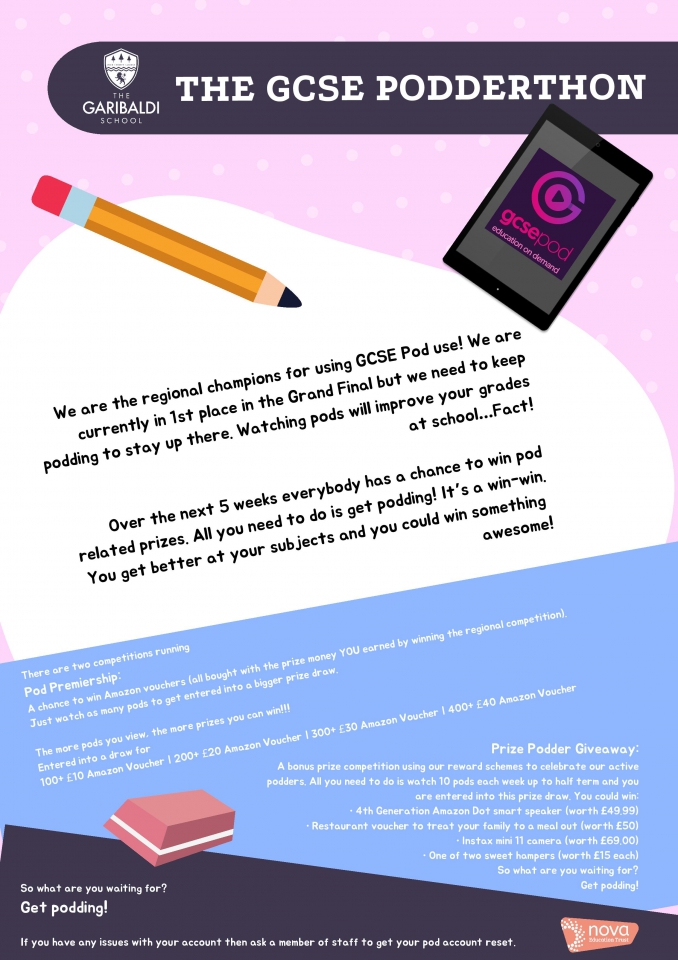 The Garibaldi School is proud to announce winning the Regional round, beating over 115 other schools, in the GCSE Pod Games. GCSE Pod is a web-based platform that all students have access to. It offers a range of resources but most significantly has thousands of short videos that are on almost every topic of every course our students will undertake. This is supported with helpful multiple choice style questions called "Check and Challenge". Regular use of the GCSE Pod platform has been proven to show that students who use it, perform an entire grade higher per subject over non-users.
Our students have shown amazing dedication in using GCSE Pod. Over the Easter break almost 1500 Pods were watched, mainly by our Year 11s, which has put us currently into first place during the Grand Final stage of the competition. There are now a number of students who have watched over 1000 pods each which is an incredible achievement. The competition ends on the 1st of July. It has been wonderful to achieve such success on this new platform. Please keep on podding as it will help you achieve to a higher standard in all of your lessons.
Support us by downloading the GCSE Pod app on your phones, logging in and watching those ever helpful pods. Most of them are under 5 minutes long so it is easy to watch a few each week for those topics you want to revise up on. Every student has an account and if you run into difficulties please see any member of staff to get your account reset.
Well done on a simply fantastic achievement. Now let's go and chase that trophy!
August 2022
| M | T | W | T | F | WE |
| --- | --- | --- | --- | --- | --- |
| 1 | 2 | 3 | 4 | 5 | 6 |
| 8 | 9 | 10 | 11 | 12 | 13 |
| 15 | 16 | 17 | 18 | 19 | 20 |
| 22 | 23 | 24 | 25 | 26 | 27 |
| 29 | 30 | 31 | | | |