Uniform and Equipment
Uniform and Equipment
School Uniform with effect from 1st September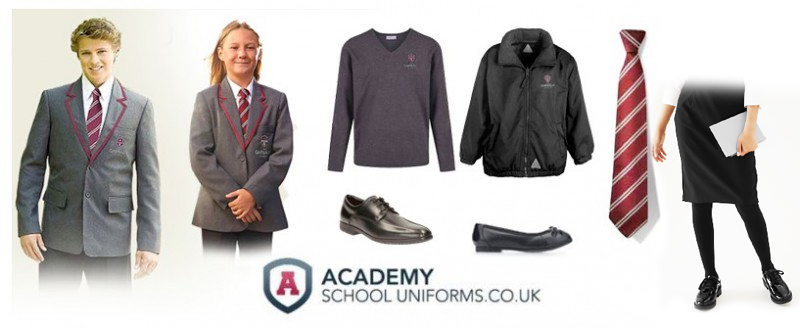 Uniform
Official School blazer
Plain white shirt with collar – that must be tucked in at all times, with the top button fastened (can be short-sleeved; no soft collar or polo shirts)
Official clip-on School tie – that must be worn at all times (except PE)
Optional official School grey school jumper
Plain black trousers: these should be formal in style with pockets (no zipped pockets). No leggings or jeggings, no denim or cord material
Or plain black skirt: this should be formal in style and, as a minimum, come close to the knee: No lycra tube skirts. Plain black tights must be worn with a skirt, no socks or patterned tights
Black shoes (no trainers/pumps/UGG boots/Doc Marten boots etc*)
A plain outdoor coat (no hoodies, tracksuit tops, denim or leather jackets)
School bag - large enough to carry a ring binder or exercise book
Natural hair colour
Nails should be kept at a sensible length and, if varnish is worn, it should be a natural colour
PE uniform
School logo embossed grey PE polo shirt
Plain black socks
Trainers that offer suitable support, either laced or Velcro (plimsolls must not be worn)
Choose one or more from:
Plain black shorts/plain black tracksuit bottoms/school logo embossed black leggings*
PE Optional extras for colder weather
School logo embossed black waterproof/fleece lined jacket
School logo embossed ¼ zip black long sleeved top
No hoodies, jumpers or tracksuit tops. *No other leggings are allowed; the school logo embossed leggings are high quality and ensure modesty.
Please note:
Jewellery should be kept to a minimum, (one ring allowed which will need to be removed for practical lessons)
Piercings are permitted but limited to one stud in each ear. No nose or tongue piercings are allowed. Students must refrain from wearing hooped earrings
Excessive make-up should not be worn
Caps/hats should not be worn in lessons or around the School site
Students should not wear trainers or other similar sports and designer clothing. Nike, Adidas and similar sports brands do not make formal shoes suitable for school, therefore, brands like these are not permitted
The only jumper permitted is the optional official school grey jumper.
Students who persistently fail to meet uniform expectations may be referred to Student Services so that contact can be made with parents/carers and suitable sanctions put in place.
*Please note: sports brands such as Nike/Adidas etc do not manufacture school shoes. So please, when buying shoes, consider carefully if they conform to our Uniform Policy.
Character Cards
Students must have their Character Card on them at all times.
Outdoor Coat Guidelines
Click on the Letter to parents Outdoor Coat Guidelines for more information.
Equipment
How to purchase The Garibaldi School Uniform
Local high street stores in Arnold, Long Eaton and West Bridgford are open every Saturday for collections and returns.
Click on the link below for shop locations and the latest opening times:
All uniform should be ordered direct with Academy School Uniform https://just-schoolwear.co.uk/product-category/the-garibaldi-school/ Deliveries will be made direct to home addresses. Collection from school is available - orders can take up to 20 working days to be delivered to school.
Academy School Uniforms are the only supplier of The Garibaldi School official school uniform.
Please visit the link below to purchase any items of school uniform
http://www.just-schoolwear.co.uk/shop/The-Garibaldi-School.html
Academy School Uniforms offer an extensive and well established on-line purchasing facility to have garments delivered directly to home. Please note that items can be returned directly to 'Academy School Uniforms'.
Academy School Uniforms have a number of shops in the area and The Garibaldi School uniform is available in the Arnold and Bulwell shops - please visit Academy School Uniforms to check for restrictions.
Please click here for latest information from Academy School Uniforms
Please click here for information on measuring for school uniform.
If you have any questions regarding uniform, please contact Just Schoolwear at info@just-schoolwear.co.uk
December 2023
| M | T | W | T | F | WE |
| --- | --- | --- | --- | --- | --- |
| | | | | 1 | 2 |
| 4 | 5 | 6 | 7 | 8 | 9 |
| 11 | 12 | 13 | 14 | 15 | 16 |
| 18 | 19 | 20 | 21 | 22 | 23 |
| 25 | 26 | 27 | 28 | 29 | 30 |